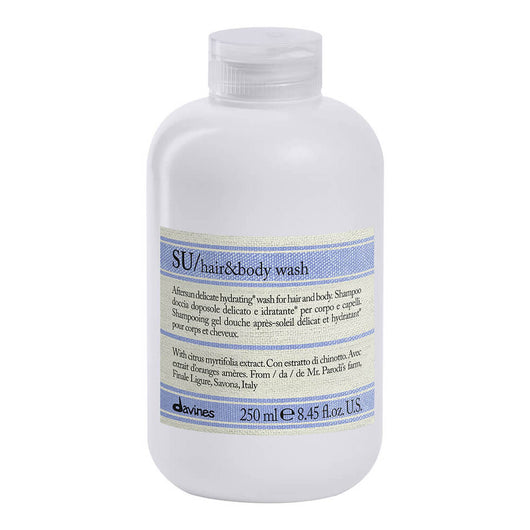 Davines SU After Sun Hair & Body Wash 250ml
Davines
Regular price £18.50 Sale
Combined shampoo and body wash with a gentle cleansing action
Perfect for your travels, Davines SU Hair & Body Wash takes care of both your skin and your hair after exposure to the sun. The hydrating formula gently cleanses away impurities while revitalising your skin and locks. infused with antioxidant rich citrus myrtifolia fruit offering both restorative and anti-inflammatory properties, it provides an antidote to dry sun-kissed skin while nourishing hair to prevent it turning to straw.
This highly effective all-in-one treatment is ideal for daily use wherever you happen to be. Better still, it was created with the environment in mind and so features rapidly biodegradable and sustainable ingredients. The energy used to produce the SU collection is entirely obtained from renewable sources. You don't have to sacrifice your look to take care of the planet.
Benefits
Gentle cleansing action
For hair and body
Nourishes and protects
Kind to the environment
Features sustainable ingredients
Enriched with citrus myrtifolia
How to Use
Apply to wet hair and skin
Massage in gently
Rinse
Repeat application
Follow by applying SU Hair Mask or SU Milk
Please note: UK delivery only.